I'm pretty excited for my first So What! Wednesday over here.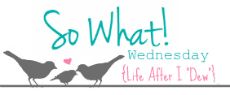 Thanks again Shannon for letting me say SO WHAT! if...
*this week's blog posts are full of link-ups and picture heavy recaps.
*I've been entirely unproductive during naps so far this week.
*I've been commenting on Shannon's IGs and blog for a while now and just "formally" told her who I was.
*I bought a super cool airplane toy that was missing some parts at the consignment shop to go home and find the full version on ebay for only a few dollars more AND I'm considering buying the full version off ebay anyway.
*I didn't get computer time last night since we are a "man down" technology wise over here and I don't care a bit that I missed anything.
*I don't necessarily care to be one of those super clean people (who I really think are awesome!)
who never have drying dishes in a rack or a few that didn't fit in the dishwasher piled in the sink when they go to bed.
*I really missed watching The Biggest Loser as part of my Tuesday TV.
*I'm totally off my game with W's birthday party. I have no idea if we'll even have a party. Yep, it's about a month away.
Stop by, play, and link up!
Thanks again Shannon!