I'm linking up again this week with Shannon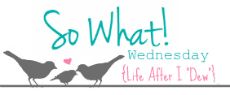 and throwing my hands up saying So What! if...
*my skillet for morning eggs gets washed every night and set right back on the stove again for tomorrow. Eggs every day my friends.
*I am terrible at this whole twitter thing. I might check it in the morning and respond to several people and then not check it again until the evening. I'm so not a twitter conversationalist.
*The vinegar + dawn clean your shower spray practically blinds and chokes me. I like the clean feel it gives to the shower door.
*I'm scarred from our last trip to the playscape when two big kids pushed sweet W down the slide. Kids are mean!
*I wrote down what I'd give the big "So What!" over the weekend because I'd forget by the time Wednesday came around.