Linking up with the wonderful (and vacationing) Shannon this week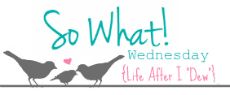 This week I'm saying So What!!..
*That seeing the Olympic athletes walk out makes me cry every time.
*That I love George Michael's "Faith."
*That I had to force myself to put the paper plates from Saturday's football hang out away so I would not be tempted to use them all week.
*That I made my first ever pound cake Saturday.
*That I will probably have said pound cake every day for breakfast this week.
*That I've had two back to school teacher dreams in the past week and for the 3rd year in a row am NOT returning to the classroom just yet.
*That I'm terrible at cleaning out my closet (and house clutter for that matter). Thankfully Purple Heart and another truck or two call to come by once or twice a month. I can deal with small batches.