J is a huge pot pie fan so when I ran across this recipe that has a similar feel to it, I knew we'd have to give it a shot. It also has that "easy weeknight dish" vibe working for it.
After trying this, not once but TWICE, I thought I'd share for this week's link up with AP.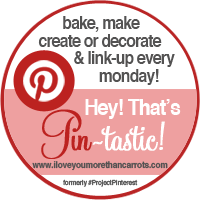 For my first dance with this recipe I grabbed the "Grands" biscuits, and we ended in disaster. I followed the very simple recipe directions and the bottoms of the biscuits would not cook. I tried flipping them midway, and that just made a mess. I scraped more than half of the dough off and we ate the very tops with our filling.
We knew it needed another attempt. I found regular biscuits at the store, well as regular as you can get. The smaller ones are called "Grands Jr." and for the life of me could find nothing smaller.
And following the recipe again:
Looks great right? Like the picture above?
Turns out that the underneath wouldn't finish cooking (again!) so we had to shave off the tops and throw out uncooked dough.
Glancing back at the recipe before writing this post, I checked out the comments section and so many people complained about the biscuits not cooking. So I don't feel so bad!
A few readers gave suggestions as well, such as quartering the biscuits first or even baking them a bit by themselves first to get the bottom browned.
I'm not giving up on this recipe because the filling is tasty, the prep is super easy, it's a good comfort food sort of meal, and my family eats it! I'll have to keep ya updated!
Thanks for the link-up AP!