Linking up with
Cole
for some good eats this Tuesday! Go share your favorite recipe!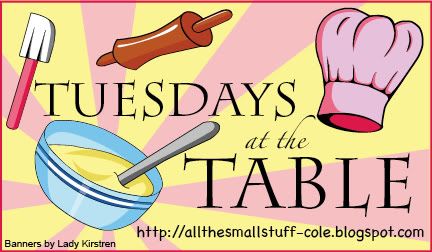 Thanks to Kroger and their recipe card/coupon combo we get in the mail every now and then. We are 2 for 2, and even The Sheriff gives two thumbs up, well maybe ten fingers as he signals for "more."
I'll post as I adapted from original recipe. Enjoy!
Ingredients:
Cooking spray
Olive oil
Butter
1/2 onion, diced
2 garlic cloves, crushed
8 oz. white mushrooms, sliced
2 small zucchini, diced
2 (14.5 oz) cans crushed tomatoes
1 tbsp. Italian seasoning
1/2 tsp salt (but when in doubt....)
1/2 tsp ground black pepper
1/2 sugar (oops. I think I forgot this one.)
1 rotisserie chicken, deboned and broken into chunks
1 (8oz) shredded Italian cheese blend or mozzarella
1 package whole wheat three cheese stuffed tortellini
Directions
:
Preheat oven to 400 degrees. Spray 13X9 baking dish with cooking spray.
Heat large skillet over medium-high heat and add 1-2 tablespoons of butter and 1-2 tablespoons EVOO. Add onion and garlic and saute until garlic is fragrant. Do not overcook.
Add mushrooms and zucchini and saute until very soft. (especially if wee ones will be nom-nomming). Add crushed tomatoes, Italian seasoning, salt, pepper, and sugar. Stir to combine.
Remove from heat, add chicken and 1 cup of cheese. Stir to combine.
Spread uncooked tortellini evenly in bottom of baking dish. Top with chicken and vegetable mixture, making sure all pasta is covered. Sprinkle remaining cheese on top.
Bake uncovered for 20 minutes on center oven rack until heated through and cheese is melted and bubbly. Let stand 5 minutes before serving.