It's Friday y'all, and I'm so glad to link back up with
Erin
to think about the sweet blessings God has whispered into my life this week. It may sound cheesy; you can call me Pollyanna, BUT why blog/tweet/post if it's just to complain right?!?!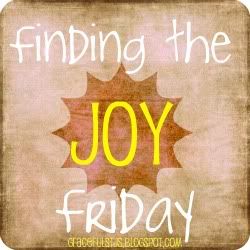 It's hitting the middle of September, and this week I'm FINDING THE JOY IN:
*An LSU victory last night. It was shaky there for a bit fellas, so let's clean it up and play like the #3 ranked team in the nation.
*My alma mater's (Louisiana Tech University's) game vs U of H Saturday night on ESPN 3! How 'bout them dawgs!
*Adjusting to a new schedule. It seems that The Sheriff wants the morning nap to be a goner, so it's a new start for both of us. Yes, it's stressful. Yes, Momma thinks he still might need it sometimes. Yes, I will totally miss him taking two naps. BUT, I am ready to embrace this new stage and set a new "routine" for us.
*A breezy morning. Speaking of this new "routine," W has been sleeping until almost 8 (hello blog reading time!) which is delaying our morning run to the park. However, temps are getting cooler (90s baby!) and we can actually go the parks later without fear of heat stroke.
This morning was gorgeous, and it was fun to watch W explore for a while instead of feeling like we've got to get back to cool off.
Maybe it's Fall poking his little head around the corner. Now if the rest of him would come on out too. We are more than ready over here!
*The itch to craft it up. I've got my fingers crossed currently hoping that Cowboy will come home early so I can jet to Michaels and Hobby Lobby sans baby to pick up a few needed materials for my weekend crafting agenda. Stay tuned; I'll blog it all, promise.
Where's your joy this week?